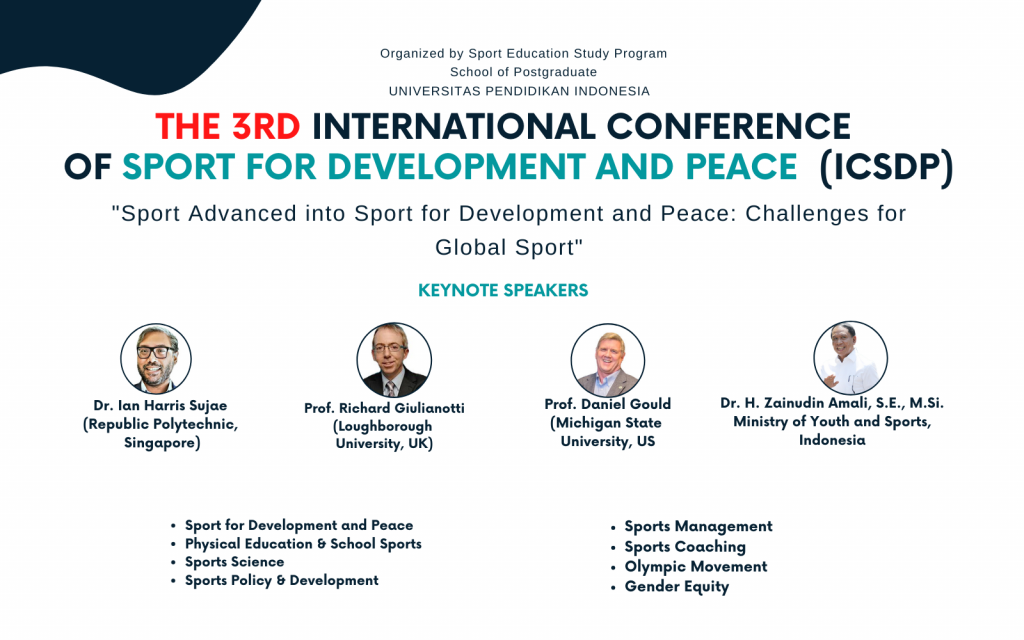 Welcoming
In line with the United Nations development issues for 2015-2030 which set the umbrella for development in all countries in the world, namely: "Sustainable Development Goals" (SDG's) which specifically stipulated in the field of sports the issue of "Sport for Development & Peace" (SDP). SDP has now become a strategic issue to be disseminated throughout the world and has become an attractive research field for scientists in the fields of physical education and sports. SDP emphasizes that sport is believed to have superiority and noble values to be instilled in efforts to shape human personality as God's creatures The One and Only in one complete unity, between physical, spiritual and social and is seen as contributing to improving the quality of life of the people of a nation. The process of transferring the universal values of sports must become basic knowledge for every teacher and / or sports coach because it is one of the key factors in implementing the issue of Sport for Development and Peace and the practice of the development paradigm through sport (Development through Sport) at the micro level. This value transfer is a process in positioning sports as a vehicle for the development of positive youth (Positive Youth Development / PYD).
The 3rd International Conference of Sport for Development and Peace (The 3rd ICSDP) with the theme "Sport Advanced into Sport Development and Peace: Challenges for Global Sport" invite all academics, researchers, and practitioners to share their experiences, ideas, views, visions, and missions related to this topic from various scientific perspectives and expertise.
Theme / Scope
Sport for Development and Peace
Physical Education & School Sports
Sports Science
Sports Policy & Development
Sports Management
Sports Coaching
Olympic Movement
Gender Equity
Important Dates
| | |
| --- | --- |
| Open Registration | 24th September, 2021 |
| Abstract Submission Deadline | 28th October, 2021 |
| Registration Fee Payment Deadline | 28th October, 2021 |
| Full-Paper Submission Deadline | 15th November, 2021 |
| Power Point Presentation (PPT) Upload Deadline | 28th October, 2021 |
| Abstract Acceptance | 30th October, 2021 |
| Conference Date | 1st-2th November, 2021 |
| Results of Paper Review | 30th November, 2021 |
| Paper Revision Submission Deadline | 7th December, 2021 |
Keynote Speakers

Brief CV Keynote Speakers
Daniel Gould, Ph.D.
Professor and Director
Institute for the Study of Youth Sports
Department of Kinesiology
IM Sports Circle

Dan Gould is the Director of the Institute for the Study of Youth Sports and the Gwen Norrell Professor of Youth Sports and Student-Athlete Well-Being in the Department of Kinesiology at the Michigan State University. As Director he focuses his efforts on achieving the Institute's mission which is to provide leadership, scholarship and outreach that transforms the face of youth sports in ways that maximize the beneficial physical, psychological and social effects of participation for children and youth while minimizing detrimental effects. This is accomplished by providing professional leadership, conducting cutting edge applied research on critical issues in youth sports and physical activity, and engaging in educational service and outreach by designing programs to develop youth sport coaches, parents, administrators and officials, as well as young athletes themselves.
Ian Harris Sujae (Ph.D)
Conexus Senior Manager (ERGO Technology Centre), Senior Lecturer (Sport and Exercise Science) at Republic Polytechnic
Professor RICHARD GIULIANOTTI
MA, MLitt, PhD, FAcSS, FRSA
Professor of Sociology
School of Sport, Exercise and Health Sciences
Loughborough University
Loughborough, UK
Tel. +44 (0)1509 226350
Email r.giulianotti@lboro.ac.uk
Dr. H. Zainudin Amali, S.E., M.Sc. (born March 16, 1962) is the Minister of Youth and Sports in the Indonesian Advanced Cabinet Joko Widodo-Ma'ruf Amin in the 2019-2024 period, he is a businessman and politician from Gorontalo. Zainudin is a member of the Golkar Party who served as Chairman of the Golkar Party DPP for the 2014-2019 period.
Zainudin Amali is a member of the DPR-RI who was elected 4 times, where he was first elected as a member of the council representing Gorontalo Province in the 2004-2009 period and 3 times representing East Java Province in the 2009-2014 period, 2014-2019 period, and 2019-2024.

PPT Keynote Speakers
---